T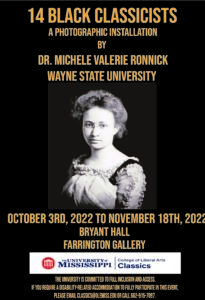 he Department of Classics is hosting a traveling photographic and historical exhibit called, "14 Black Classicists". The exhibit, conceived and curated by Dr. Michele Valerie Ronnick of Wayne State University, reflects on the role of advanced education (and especially of the study of Classics) in building a free and prosperous Black community in the United States. Dr. Ronnick has collected the stories of nineteenth-century Black Americans who chose to pursue advanced education in Greek and Latin language and ancient history, literature and art, and went on to teach in the field. The exhibit is open until November 18th, Monday through Friday, 8 am to 7 pm in the Farrington Gallery on the first floor of Bryant Hall.
In addition to the exhibit, we will be hosting Dr. Ronnick for a talk on Thursday, November 3 at 5:30 in Bryant 209, with a reception and exhibit event preceding the talk, beginning at 4:00 in Farrington Gallery. Dr. Ronnick will provide "A Brief History of Black Classicism". Monica Granderson-Little, who teaches in English at Jackson State University, will be delivering preliminary remarks that will help connect Dr. Ronnick's talk and the exhibit to the broader history of Black education, with a particular focus on the history and the future of JSU.
Visitor and handicap parking for both events is available on the Lyceum Circle. ADA-compliant access to Bryant Hall is through the Fulton Chapel side door. If you have any questions, or if you require a disability related accommodation to fully participate in this event, please contact Molly Pasco-Pranger (mpranger@olemiss.edu or 662-915-7097).