Eta Sigma Phi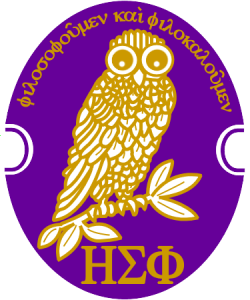 Eta Sigma Phi is the national collegiate honor society for students of Greek and/or Latin, founded in 1914 at the University of Chicago. The Lambda Chapter of Eta Sigma Phi at the University of Mississippi is the third oldest active chapter and one of the largest. Our members work to promote interest in Greece and Rome through a variety of events and service projects throughout the school year. Students with an A or strong B grade point average in Latin or Greek are nominated by the faculty for membership in the Spring semester. Anyone wishing further information may contact the department.
2014-2015 Officers
Prytanis (President): Alicia Dixon
Hyparchos (Vice-President): Laura Dona
Grammateus (Secretary): Libby Tyson
Chrysophylax (Treasurer): Emily Duhé
Pyloros (Sergeant at Arms): Weston Liefer
Faculty Advisor: Dr. Pasco-Pranger (mpranger@olemiss.edu)
Eta Sigma Phi built and maintains the UM Classics Facebook page!