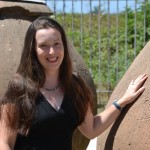 Assistant Professor of Classics
Etruscan, Roman, and Greek archaeology; ancient economy and social history; Latin prose; Etruscan and Latin epigraphy
Bryant Hall 26
662-915-2858 | hwbecker@olemiss.edu
A.B., Bryn Mawr College
M.A. and Ph.D., The University of North Carolina at Chapel Hill
Hilary Becker's research focuses upon the archaeology of the Mediterranean basin and in particular on the Italic peoples of peninsular Italy during the first millennium BC. Her research program addresses the economy and society of Etruria and she is interested in various aspects of the economy at varying levels – from the organization and control of the Etruscan army to the mechanics of Etruscan markets. Hilary is a veteran of fieldwork in Italy and is at present a principal investigator of the collaborative project in the Area Sacra di S. Omobono in Rome operated jointly by the University of Michigan (USA) and the Università della Calabria (Italy). Her recent work at S. Omobono has involved investigating the only pigment shop known from ancient Rome.
Hilary Becker's curriculum vitae

A selection of recent and upcoming publications:
Forthcoming. R. Beeston and H. Becker. "Investigation of Ancient Roman Pigments by Portable X-ray Fluorescence Spectroscopy and Polarized Light Microscopy." In Archaeological Chemistry. American Chemical Society Symposium Series. Edited by R. A. Armitage and J. Burton.
Forthcoming. "Economy in the Archaic and Classical Periods, 580-450 BC." In Handbook of Etruscology. Edited by A. Naso. Berlin: de Gruyter.
Forthcoming. "Economy in the Late Classical and Hellenistic Periods, 450-250 BC." In Handbook of Etruscology. Edited by A. Naso. Berlin: de Gruyter.
Forthcoming. "Economy in Etruria and Rome, 250-89 BC." In Handbook of Etruscology. Edited by A. Naso. Berlin: de Gruyter.
Forthcoming. "Evidence for Etruscan archives: Tracking the epigraphic habit in tombs, the sacred sphere, and at home." In Etruscan Literacy in its Social Context. Accordia and the Institute of Classical Studies, University of London.
2013. "Etruscan Political Systems and Law." In The Etruscan World. Edited by J. Turfa, 351-72. London: Routledge.
2012. "The current state of artifacts excavated at S. Omobono and a reappraisal of previously excavated materials." In Internet Archaeology.
2009. Co-editor with M. Gleba, Votives, Places and Rituals in Etruscan Religion. Leiden: Brill.*
A selection of recent conference papers and invited lectures
"The Changing Face of South Etruria," in the panel, "New synergies? The impact of the Roman conquest of Italy on settlement and society" at the Eleventh Roman Archaeology Conference (RAC). University of Reading. Reading, England.March 28th-30th 2014.
"A pigment shop in Ancient Rome." Lecture followed by a fresco painting practicum. Millsaps College. October 4, 2013.
"The Science of Roman wall painting: Pliny, pigments, and polychromy." Oxford Science Café. Oxford, MS. April 23, 2013.
"Boundaries and integration: the social, political, and sacral mechanics of Etruscan markets," at "Frontiers in the Iron Age Archaeology of Europe" hosted by Magdalene College and the McDonald Institute, Cambridge. September 20th-22nd, 2013.
"Colors and Commerce: Pigment Shops in the Ancient World," co-presented with Laura Wilke (Oberlin '10) at the 112th meeting of the Archaeological Institute of America. San Antonio, TX. January 08, 2011.